Linn County Oregon Covered Bridges!
Most of the covered bridges are located by
Scio Oregon
. Scio is considered The
"Covered Bridge Capital of the West"
.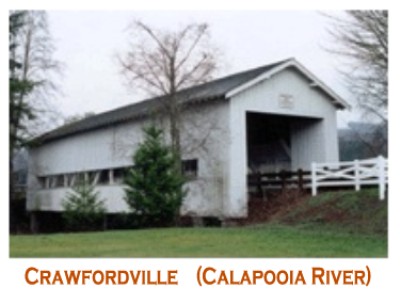 CRAWFORDVILLE BRIDGE
- Once handling daily crossing on a state secondary highway, it now rests in a wayside park. The bridge is also the site for the annual Crawfordville Days community celebration.
DIRECTIONS:
To visit, take highway 228 to Crawfordsville.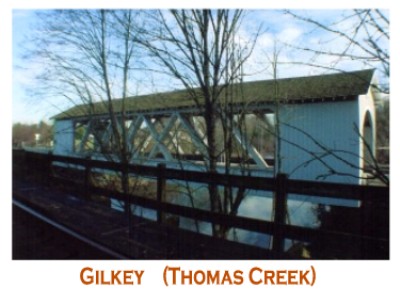 GILKEY BRIDGE
- The Gilkey Bridge is standing reminder of what was once the town of Gilkey. This heirloom exhibits open sides and curved portal openings. It is also the site of a popular swimming hole.
DIRECTIONS:
Take the Jefferson-Scio Road to Robinson Drive, continue southeast to Goar Road and head south to the bridge.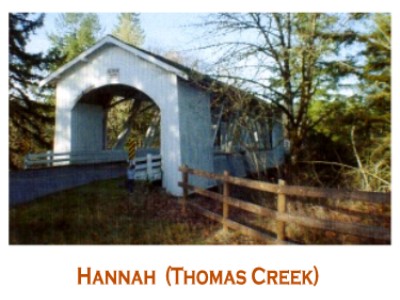 HANNAH BRIDGE
- Built on land from an original Donation Land Grant from 1846, Hannah Bridge handles daily crossing over Thomas Creek. It is popular with those who like to swim or fish.
DIRECTIONS:
From Scio, take highway 226 east across Richardson Gap road and continue on to the bridge at Camp Morrison Road.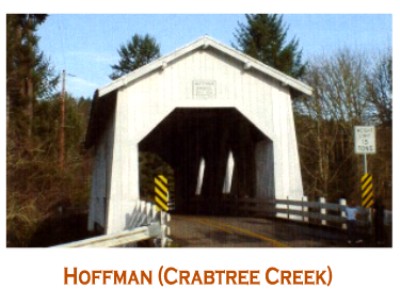 HOFFMAN BRIDGE
- Built primarily with hand tools, the upper timbers show adze marks where workers shaped them by hand. The bridge is painted white and has two Gothic windows on each side.
DIRECTIONS:
From Scio, follow highway 226 south to Hungry Hill Road, turn right and proceed west to the bridge.
LARWOOD BRIDGE
- Built near the confluence of Roaring River and Crabtree Creek at Larwood Park, making it a popular site for picnics and fishing. Also located at this site is a water-powered wheel that once provided electricity to local residents.
DIRECTIONS:
From Richardson Gap Road head east on Larwood Drive approximately four miles to the bridge and wayside.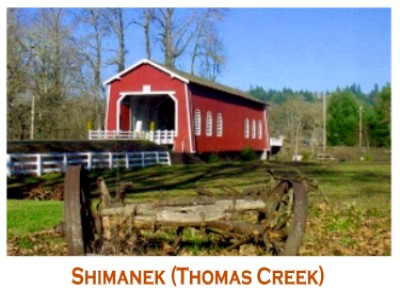 SHIMANEK BRIDGE
- The only red covered bridge in Linn County, this is the fifth covered span at the site, dating back to 1861. It boasts Gothic louvered windows on each side, with a cedar shake roof.
DIRECTIONS:
Take Richardson Gap Road two miles north form Scio to see the bridge.
SHORT BRIDGE
- Named for a local resident, the Short Bridge is the sole survivor of the covered bridges which crossed the South Fork of the Santiam River. Visitors to this idyllic location quite often see deer and other animals nearby.
DIRECTIONS:
From Interstate 5 at Albany exit US Route 20 (exit 233) southeast through Lebanon and Sweet Home for 37 miles to Cascadia. West of the city limits of Cascadia, turn left at High Deck Road.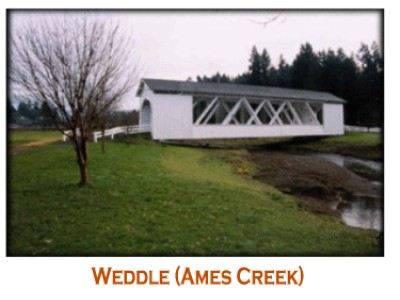 WEDDLE BRIDGE
- The Weddle Bridge was moved from its location on Thomas Creek in 1980 and finally found its current resting place in 1989 in Sweet Home's Sankey Park. The location is often used for family and community gatherings.
DIRECTIONS:
Take highway 20 to Sweet Home, turn right at the traffic light at 12th Street and go two blocks to Kalmia Street. Turn Left and continue two block to where the road veers right and continue on another two blocks to Sankey Park.